CMG Shotmaker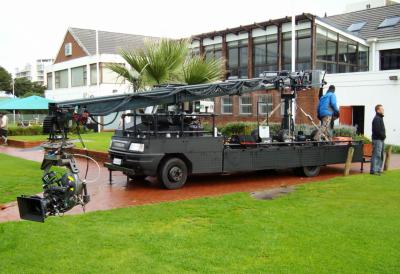 6.4 ltr, V8 engine with Automatic Gear Box. Individual Airbag Suspension on each wheel.
Total Length Vehicle: 7200
Total Width Vehicle: 2210
Side Deck/Operators Deck: 1790 x 1060 (next to drivers cabin, offering several seats for remote head operation)
Working Platform Back: 5000 x 2210
Assorted Platforms: 520 x 1700 (Front/Sides); 800 x 1740 (Front/Back); 540 x 2190 (Front/Back)
Offers a large variety of hard rigging points for Camera.
Can take variety of Cranes: Techno ST30, Giraffe Crane (Max 6 mtr), Fisher 23 Jib Arm on Base (Max. 5.5 mtr).
Speed with Crane and Limited Crew on vehicle: up to 80 kms/hour.
Vehicle can tow hero-vehicle with Universal A-Frame from centre back, or off left or right side on back of vehicle.
Variety of lighting rigs can be offered on the vehicle.
Safety Harnesses are availabe.