We have focused on precision driving and camera tracking since early 1997.
Since we started in Cape Town, our name has become synonymous with creating camera cars, process trailers and power tow rigs for a variety of moving shots. We have also set various records in two wheeling car-driving stunts. Our artistic and inventive approach to everything we achieve is inspired by our passion in everything we do, knowing what our customers want and sharing this understanding. Our focus is to get the job done, properly and with the passion we share, allowing us to deliver a final product we will all be proud of for a long time. Browse through our web page for more information.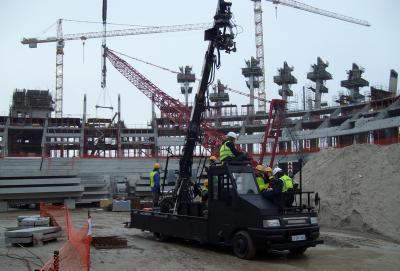 CMG Shotmaker in use at Green Point Stadium for a Liebherr comercial.