Ford F350 Shotmaker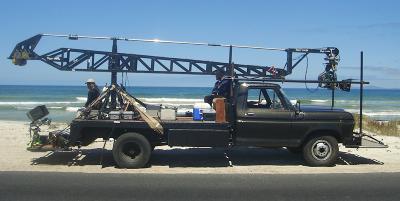 Total length vehicle: 6800total width: 2200
Working platform back: 3000 x 2200
Individual airbag suspension on each wheel
Assorted low platforms: 1920 x 1000 x 560 (front/back) and 1920 x 1000 x 360 (back)
Can take: giraffe crane, super techno st15, fisher 21 jib arm, fisher 22 jib arm, fisher 23 jib arm (max. 4.5 mtr), progrip mini jib
Speed with crane/jib arm and limited crew on vehicle: up to 120 kms/hour.
Vehicle can tow hero-vehicle with universal a-frame from centre back.
Safety harnesses are available.
Ford F350 Transpoter
Big block V8.
This vehicle is a mobile workshop, used for heavyloads, also fast and strong pulling in vehicle stunts and tracking, featuring independent air bag suspension on all wheels and a front-loading platform.
Ford F100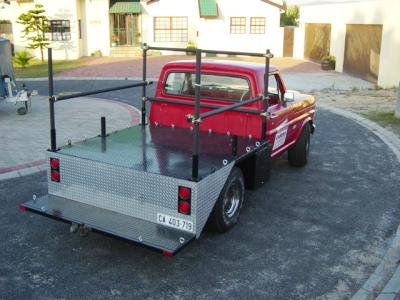 351 V8.
Tow van with front platform for generator. Automatic transmission and Individual Airbag Suspension on each wheel .