Dodge Ram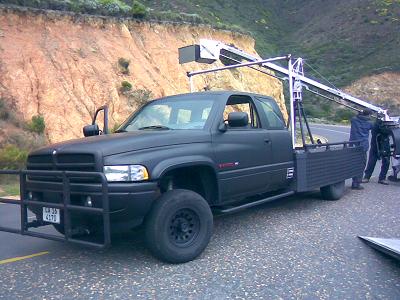 5.9 ltr, V8 Engine with 4 speed Automatic Gearbox. Individual Airbag Suspension on each wheel with optional 4X4 and low range gearing.
Total Length Vehicle: 6200
Total Width: 2200
Operating of Remote Head in Drivers Cabin
Working Platform Back: 3000 x 2200
Assorted low Platforms: 1920 x 1000 x 560 (Front/Back) and 1920 x 1000 x 360 (Back)
Can Take: Giraffe Crane, Super Techno ST15, Fisher 21 Jib Arm, Fisher 22 Jib Arm, Fisher 23 Jib Arm (max. 4.5 mtr), Progrip Mini Jib
Speed with Crane/Jib Arm and Limited Crew on vehicle: up to 120 kms/hour.
Vehicle can tow hero-vehicle with Universal A-Frame from centre back.
Safety Harnesses are available.